DISPATCHES FROM THE GARMENT DISTRICT, MAYOR BLOOMBERG
Bloomberg is All Business about Fashion, Announcing "Entrepreneurial Boot Camp" for Designers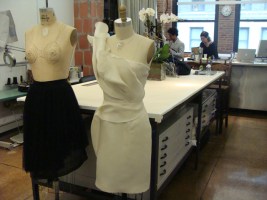 Jenni Avins/Thread NY
Bloomberg also announced an "entrepreneurial boot camp" for "emerging fashion designers, many of whom have a strong creative vision, but lack the requisite business skills." (Doesn't sound like anyone we know.) And if those creative types can get their designs to the production stage, the new
NYC
Fashion Fund will even float them money for manufacturing.
It seems like Bloomberg's vision for better-rounded designers is already taking shape. When we stopped by
Bibhu Mohapatra
's studio at the
CFDA Fashion Incubator
a few months ago, he took a break from sketching to talk sales.
"This is business," the designer said, surrounded by plush furs and ethereal gowns. "There is no meaning if there is not commerce attached to this craft, this art."